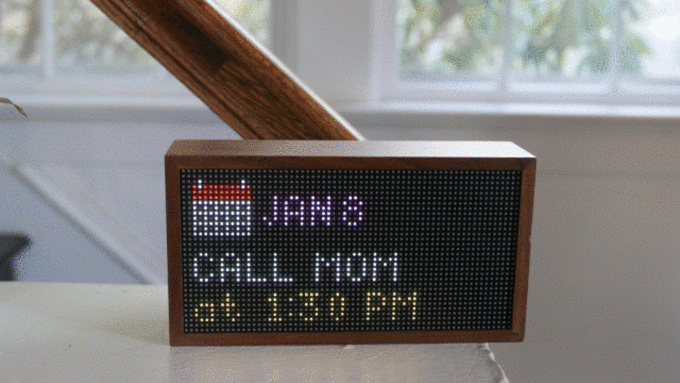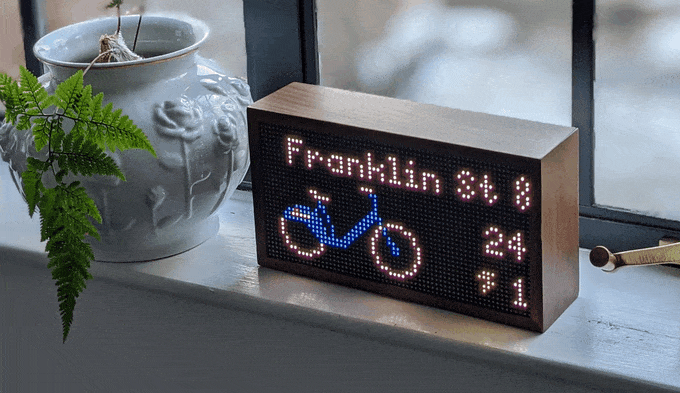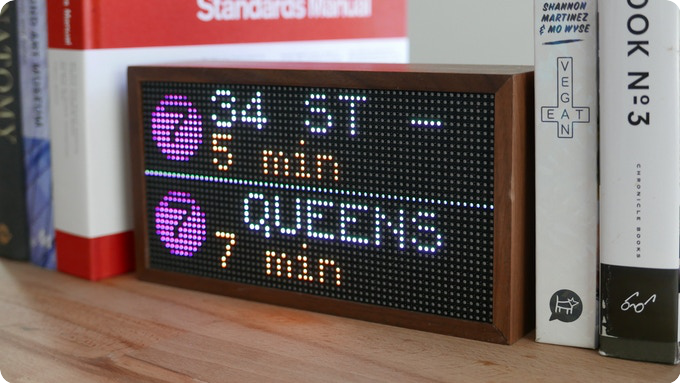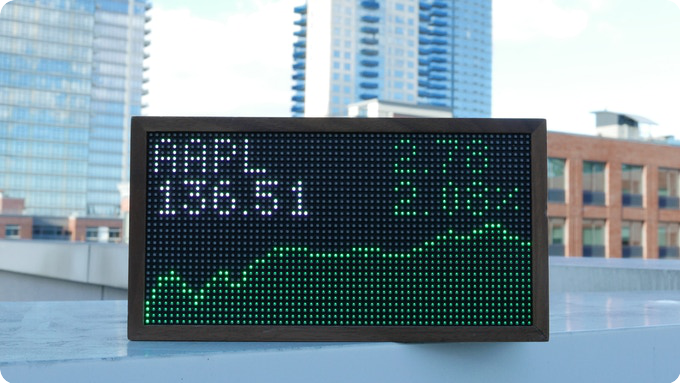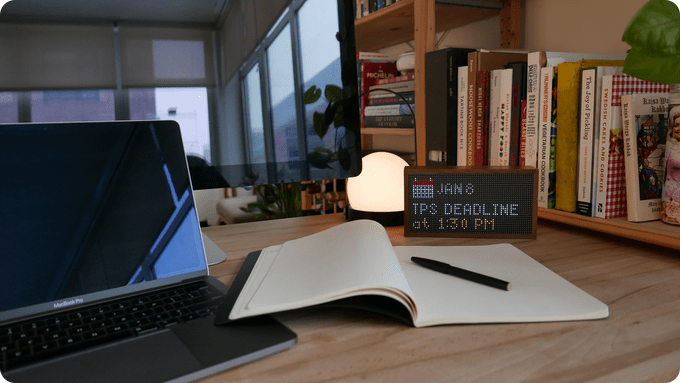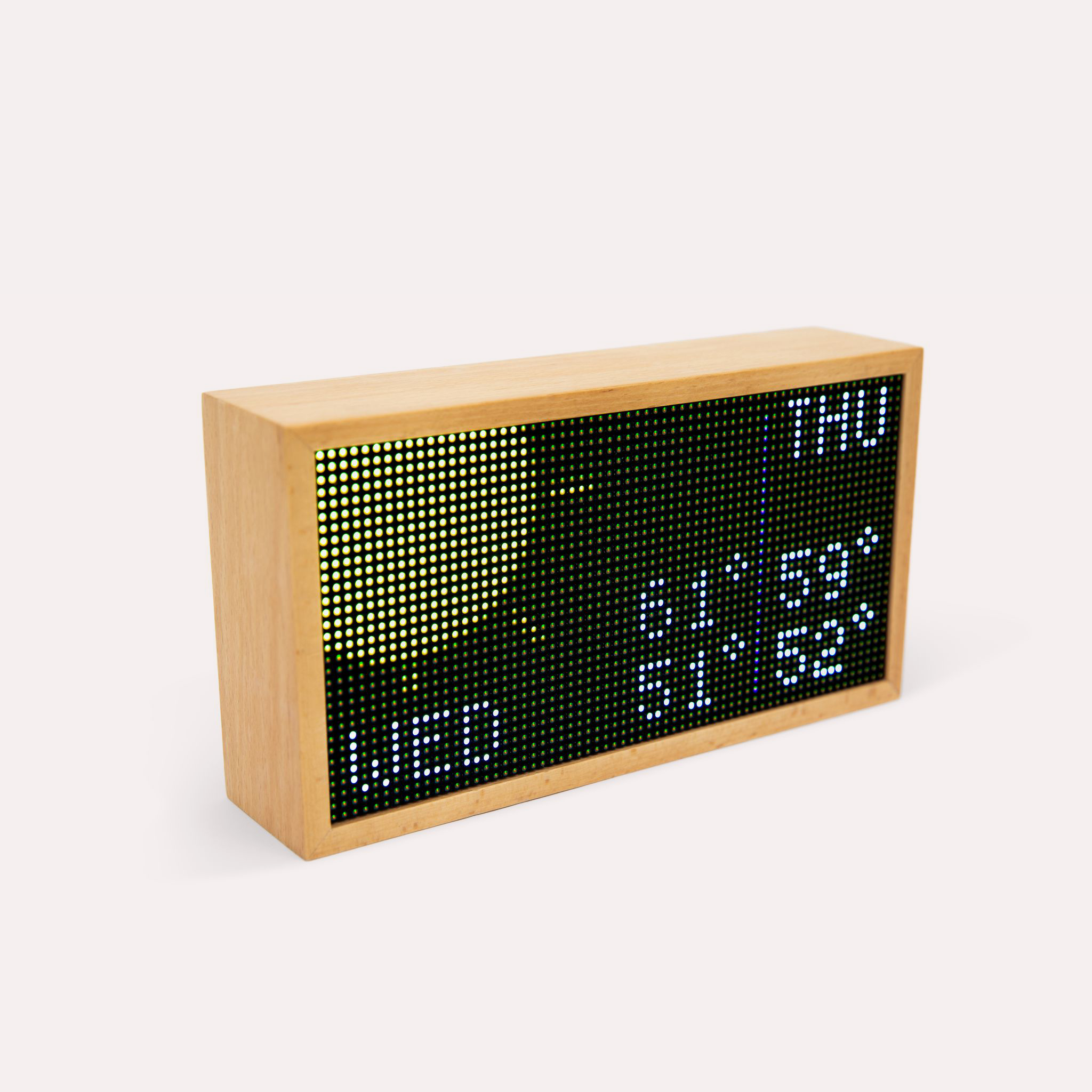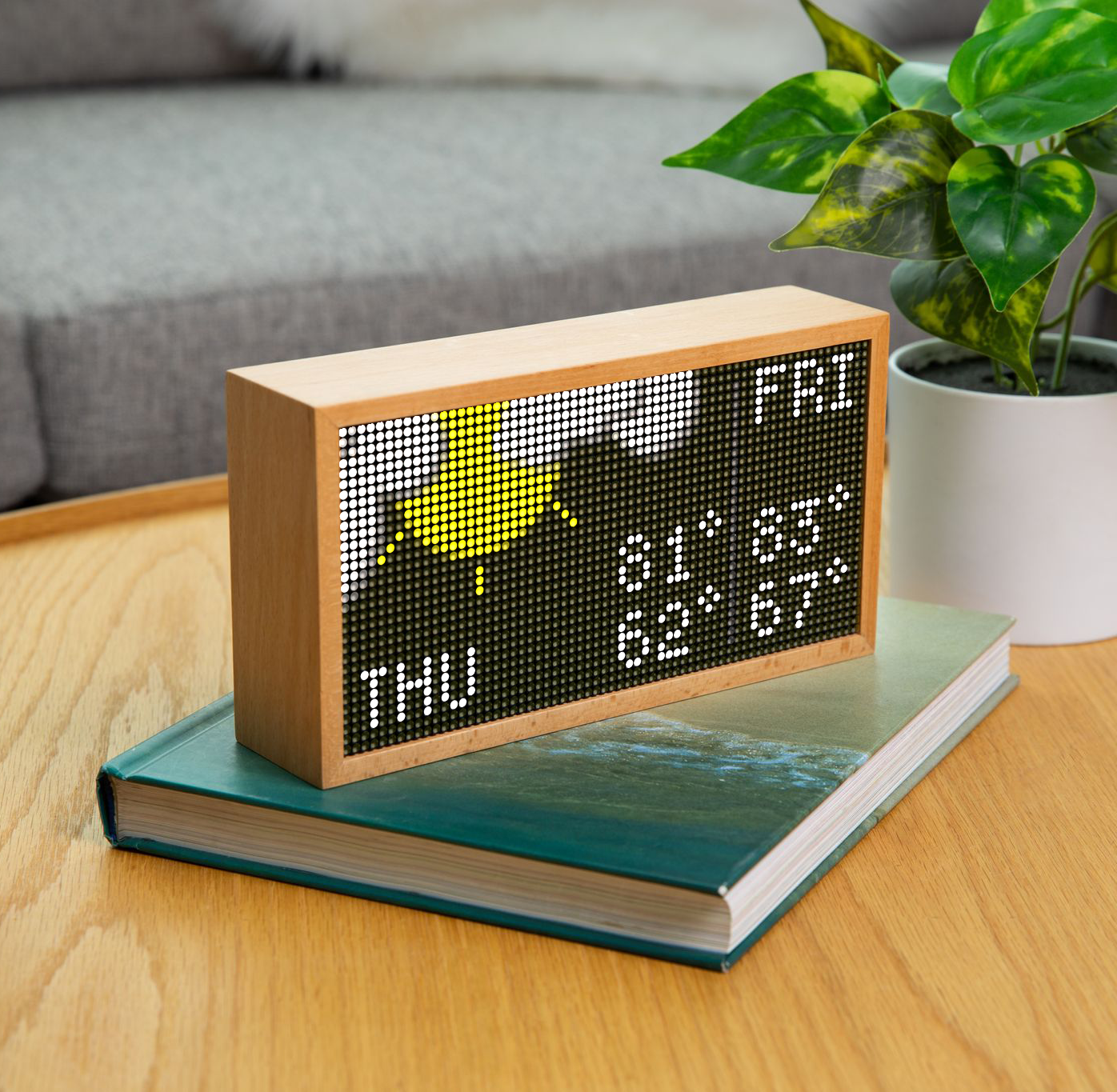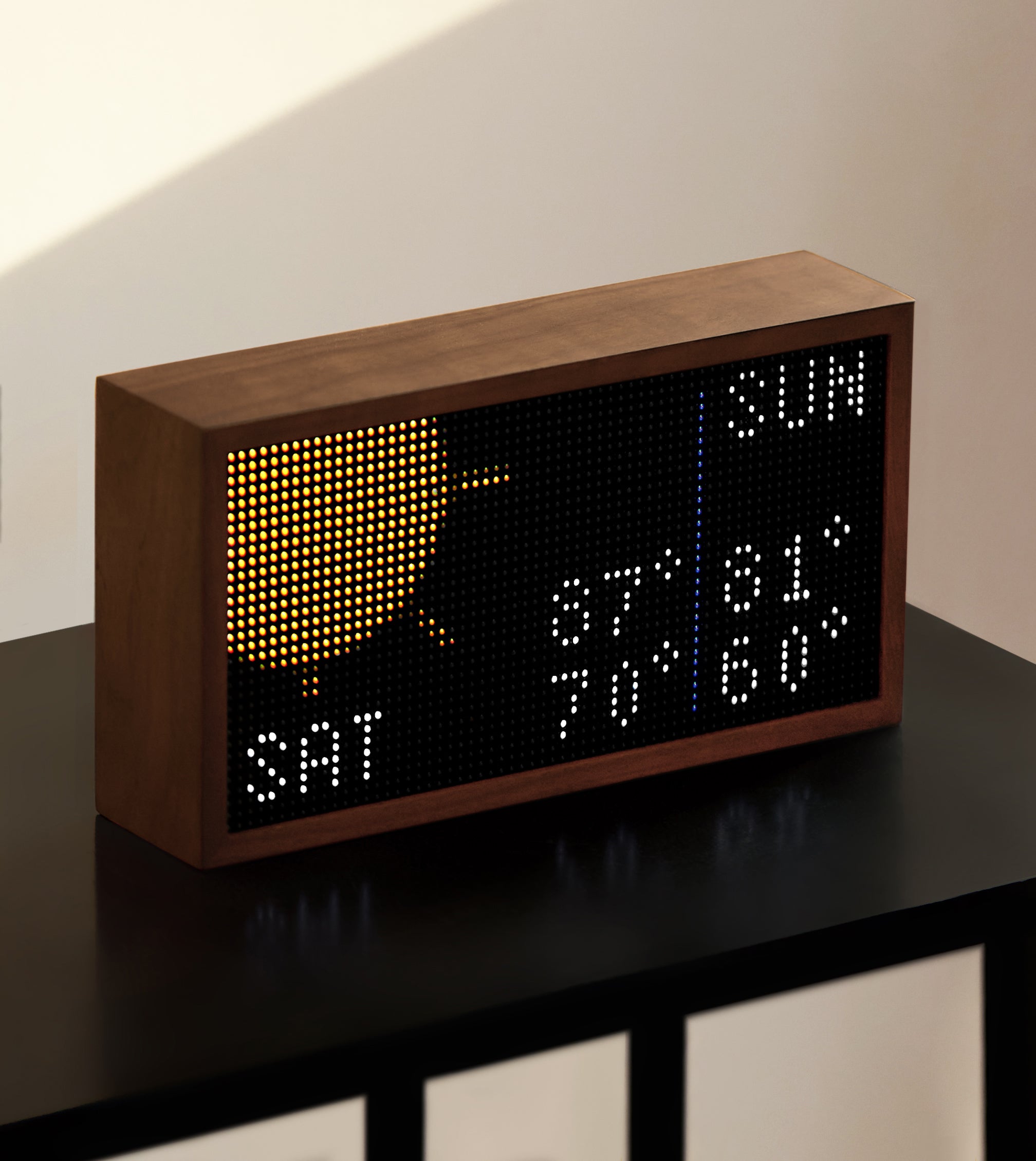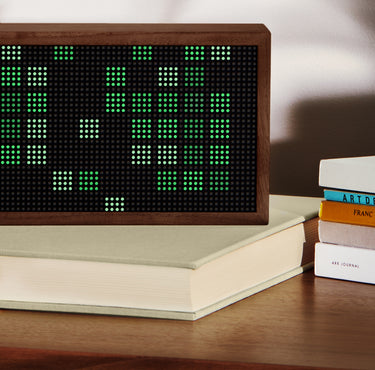 Quality Materials
Fall in love with Tidbyt's solid walnut enclosure every time you glance across the room.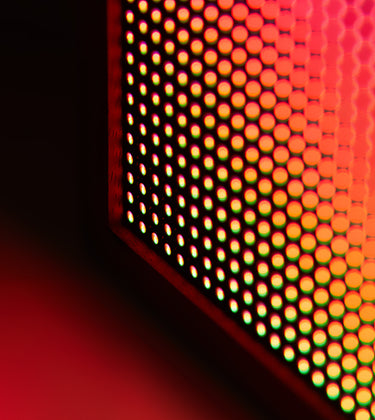 Fit Your Schedule
Use your phone to adjust Tidbyt's brightness, put it in night mode, or have it rise and set with the sun.
Easy Setup
Plug it in and pick from hundreds of apps. Choose what you want and Tidbyt cycles through it all.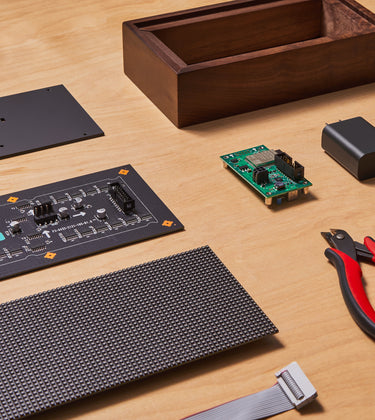 Open Ecosystem
Write your own apps, flash your own firmware, and even reuse the display for your next side project.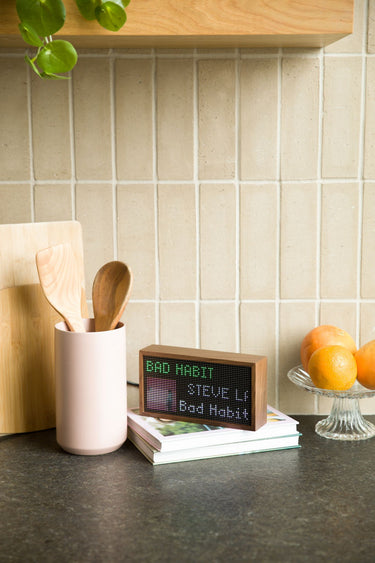 Now Playing
Never miss a song by showing whats playing from Spotify or Sonos.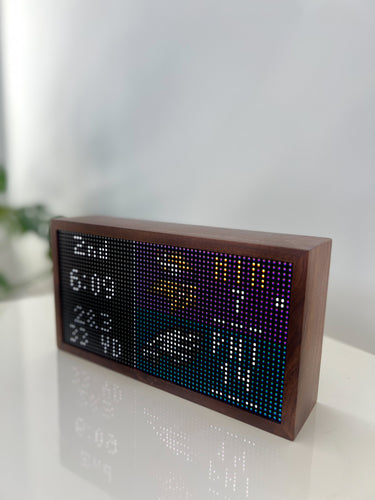 Football
Dinner with family during the game? No worries, see all your live scores and stats at a glance.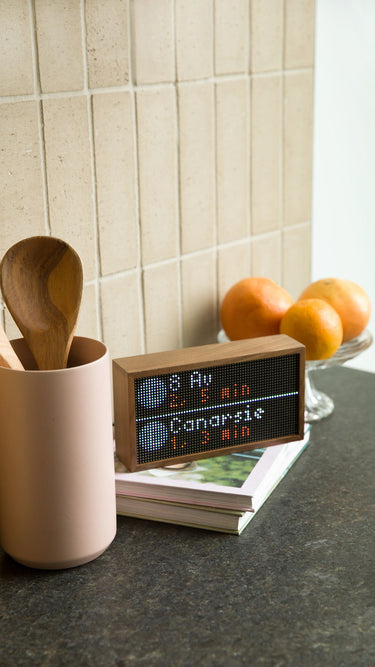 Transit Information
Keep track of when the next train is running, or not running before you head out the door!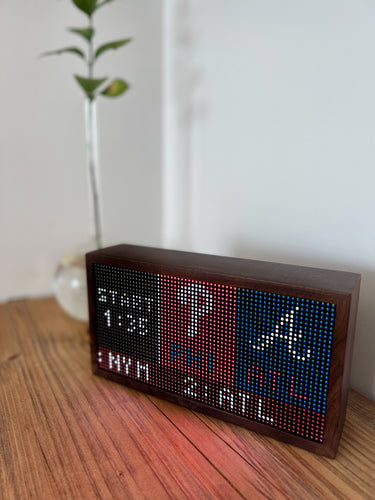 Baseball
Stay up to date with standings and live game scores for your favorite baseball team.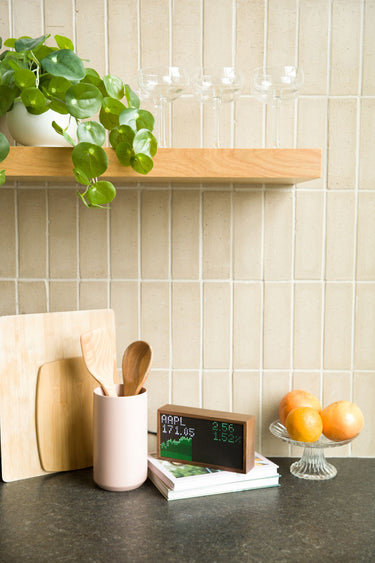 Stocks
Keep track of your favorite stocks and cryptos at a glance.
Customer Reviews
Write a Review
Ask a Question
Filter Reviews:
apps
Tidbyt
device
weather
display
information
gift
addition
husband
Everyone
09/11/2022
Celeste M.

United States
My Tidbyt
Love my Tidbyt!! it has lots of apps to add to your Tidbyt. It's so cool, and so fun.
09/09/2022
Robert D.

United States
Best Thing Ever
This Thing Is Great For A Sports Nut Like Me. Love It.
09/09/2022
Jade O.

United States
Love it!
I enjoy having this even more than I thought I would. I have currently: 3 clocks, live day/night time zone map, Doppler radar, Spotify now playing, most recent MegaMillions numbers, live near Earth objects, and some photos. Love it!
09/08/2022
MARIO C.

United States
Love!!!
Keeps me from always searching for info on my cell phone!
09/07/2022
Bard L.

United States
Cool little gadget for my desk
Love my Tydbit, in fact love it so much I had to get a one for both my home and work office. It is so easy to set up and use. Love having the time, weather, my MLB and NFL scores and stock tickers at a glance during the day. I even got a third one that I am waiting to give someone as a gift. Such a cool little gadget.
08/31/2022
Chris J.

United States
Amazing
Far exceeded my expectations. So fun to tinker with and visually looks amazing. Definitely made all my friends jealous.
09/13/2023
Steve S.

United States
Great but...
As long user of Lametric Time competitive product, I can say Tidbyt does more and on larger format which I was missing in Lametric. One thing is missing in Tidbyt though is having ability to define time for each app appearance. Some apps like clock I prefer some apps like clock to be displayed longer than other like weather. Currently Tidbyt sllows defining one appearance time for all apps. That's not enough, hoping they will update this soon.
09/13/2023
Robert D.

United States
Just great
I genuinely love my tidbyt. I thought that I would use the live/sports/news apps more but Ive surprisingly used the photo and entertainment apps a lot more. Overall amazing product
09/12/2023
Elizabeth H.

United States
Great! But I want a bit more
I love my Tidbyt. But as someone who is not a "coder" by trade, I feel a bit limited by what I can do with it. I wish there were more apps to display readily available.
09/12/2023
Brindon C.

United States
Interesting but unique
It's a unique piece to have. It's extremely well built and easy to use which is just what I wanted
09/11/2023
Steve G.

United States
Great Start
Very easy to use and a great addition to my home office. I know the product is young so I cannot wait for more apps to come out. The clocks and calendar apps could use a little more customization, and hopefully that comes in time.
09/11/2023
Joshua A.

United States
I like it
I like it a lot.
09/10/2023
Caleb W.

New Zealand
Great product, some features missing
Fantastic and almost perfect. Would love a way to time my screens specifically so that I can have one displaying longer than others
09/08/2023
Blake K.

United States
Tidbit
It's been an amazing purchase! I really enjoy because I can keep up with what I need/want to know. Aswell, I can have fun with it.
09/07/2023
Jennifer W.

United States
Love this little device!
Really great communication from TidByt. Speedy delivery and well made product!
09/07/2023
Steve L.

United States
Worth the wait!!!!
Love it! See the unpackaged video on my instagram @bosteven. I loaded up with MLB, weather, the Rays, CNN, fun picture ones. Put it on my room wall!!!!
Night Mode. Calendar turned off. Lights dimmed until morning.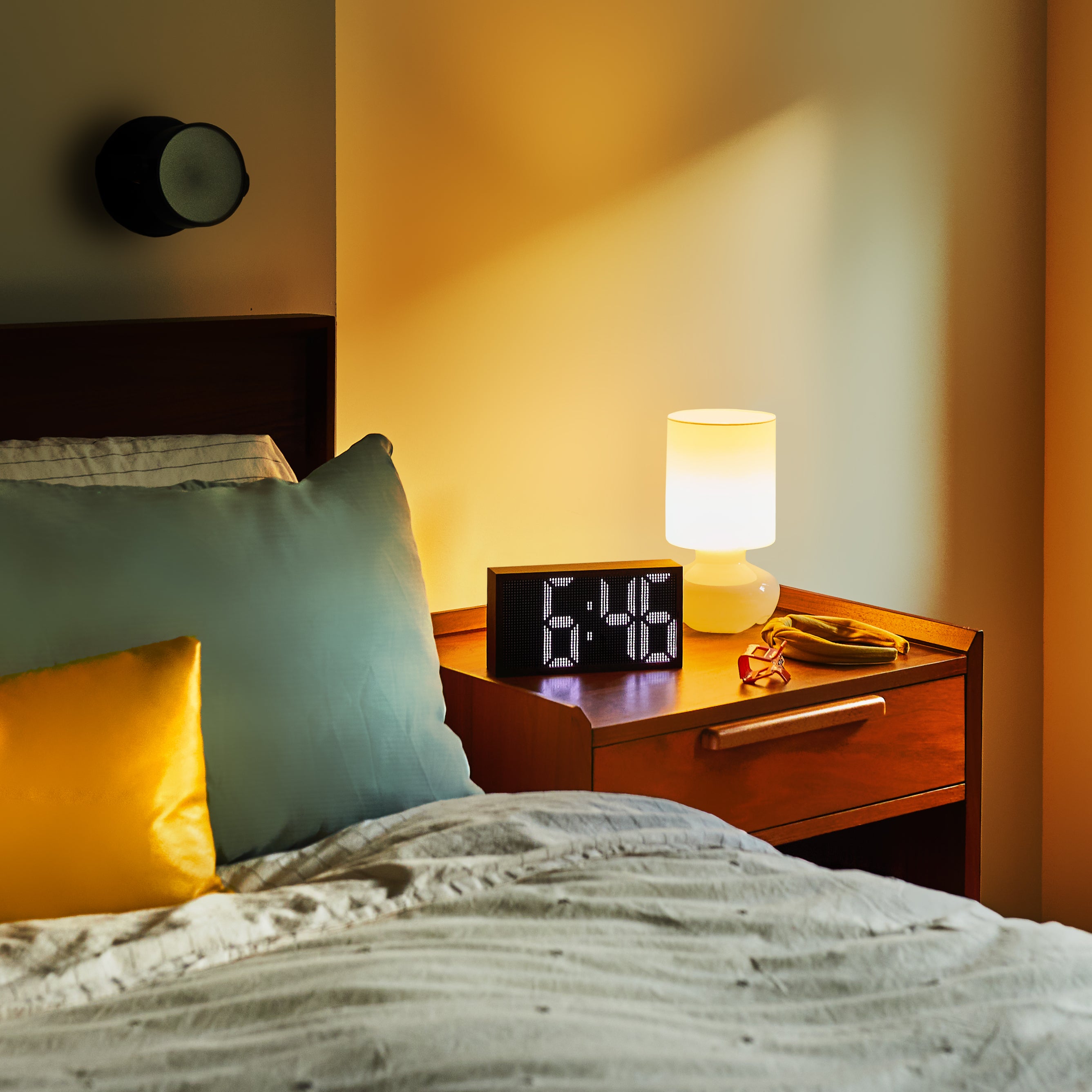 No speakers, AI or mics, just information you want to see.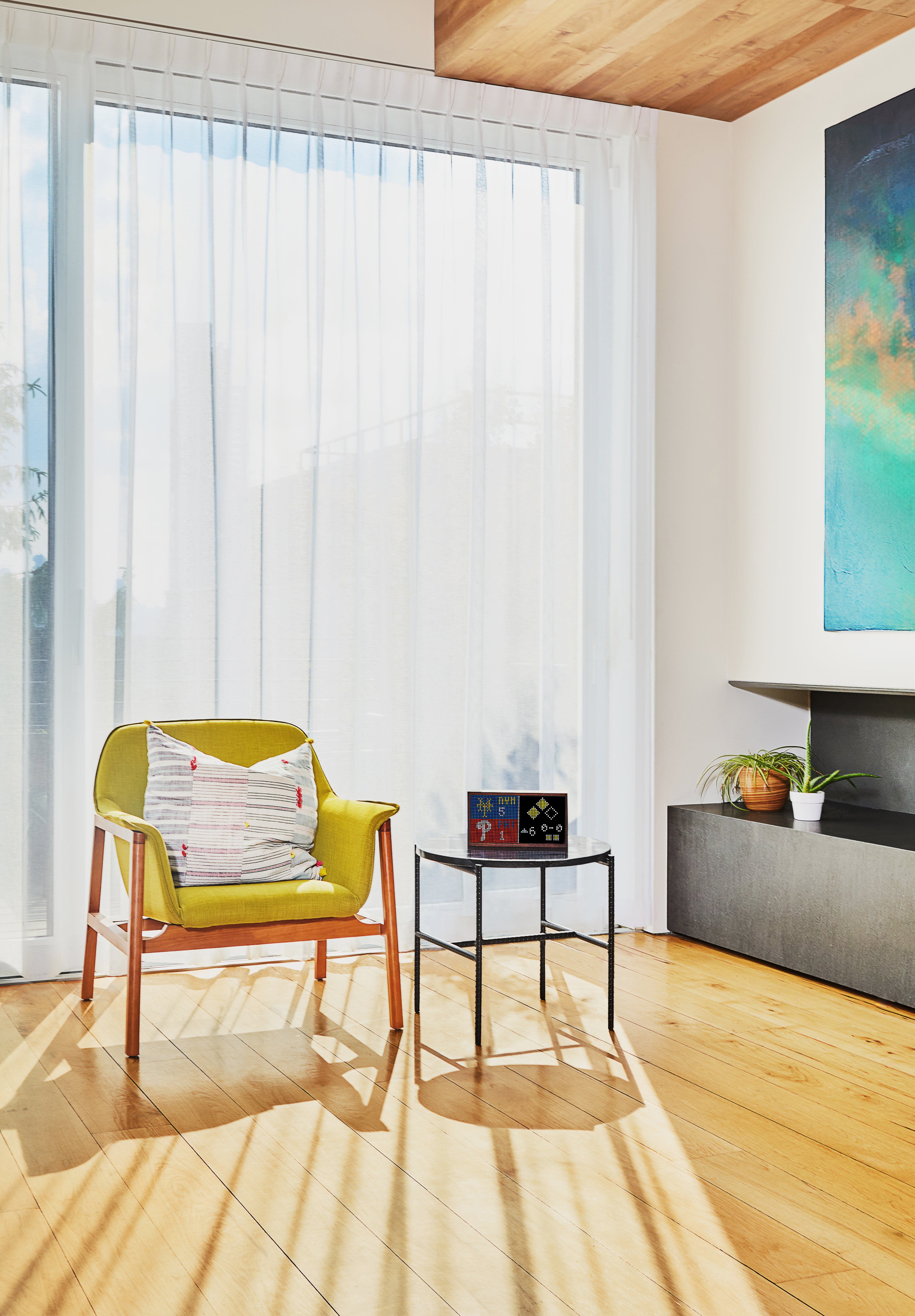 Pre-schedule apps to appear when you want to see them.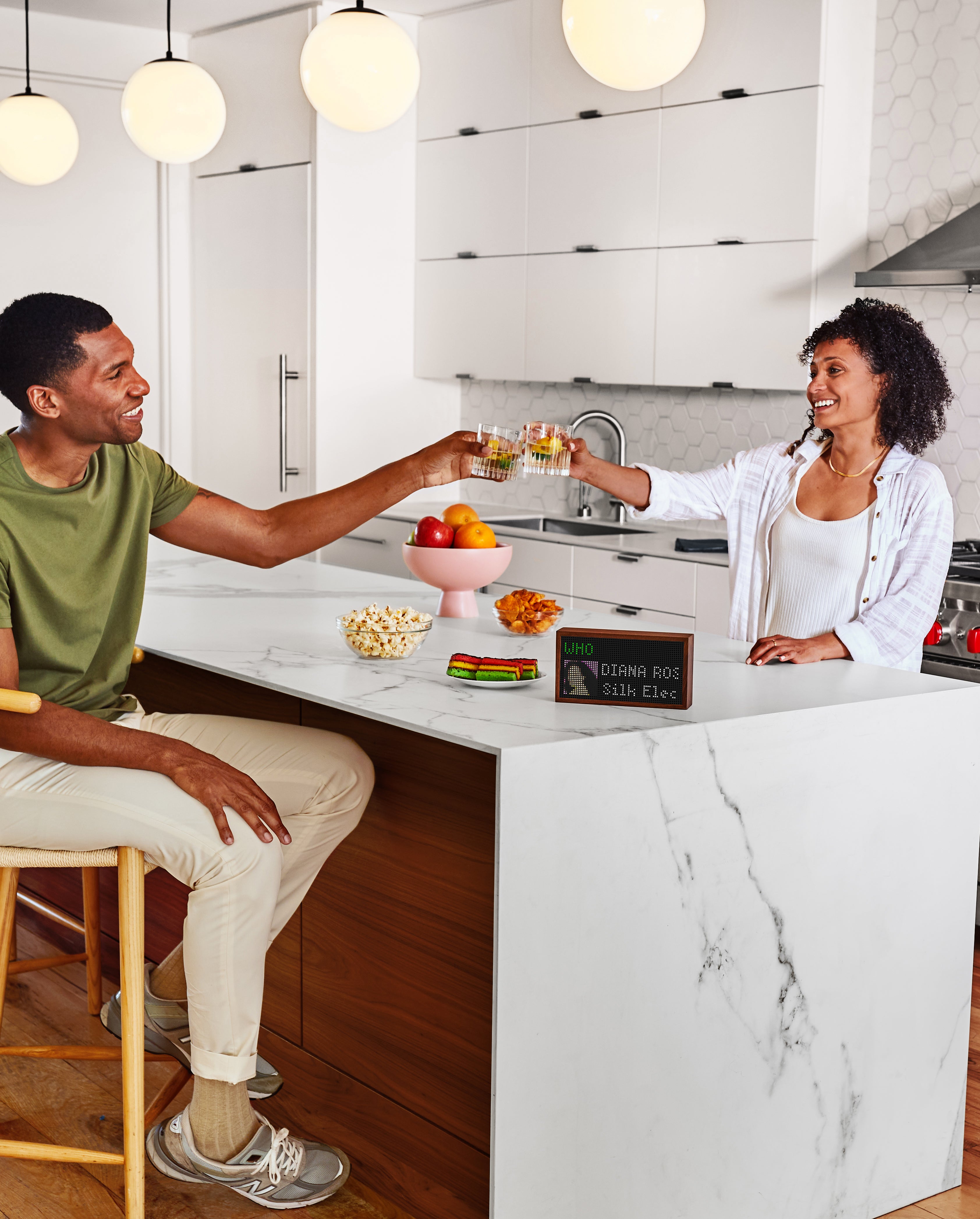 Perfect for home, work or play.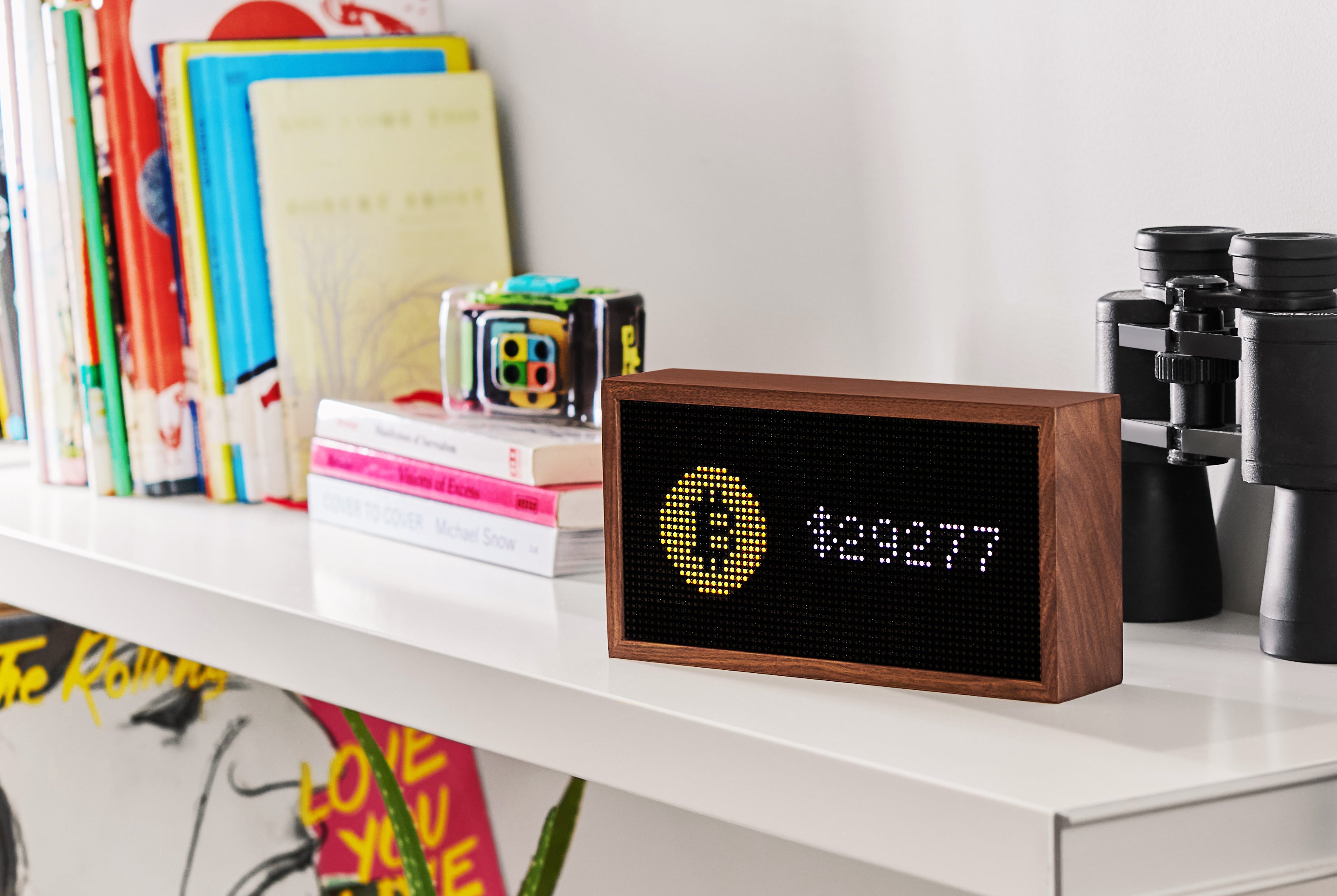 Set your cycle cadence for 5, 10 or 15 seconds.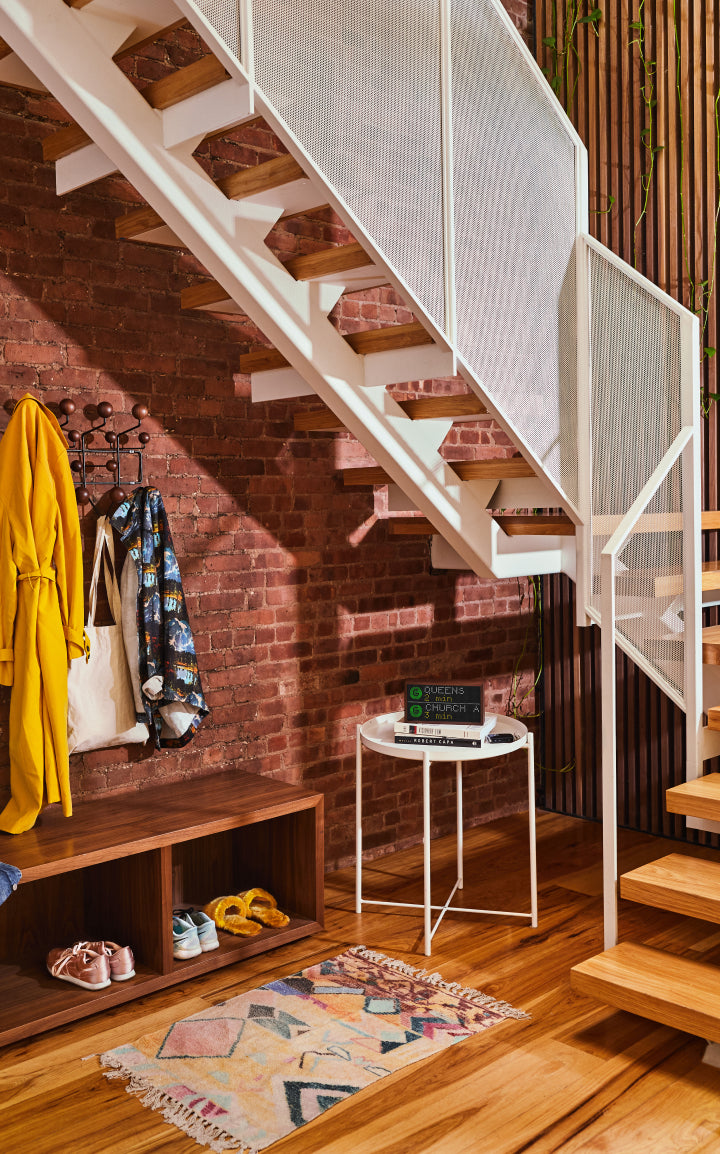 Build your own Tidbyt apps with just a bit of code.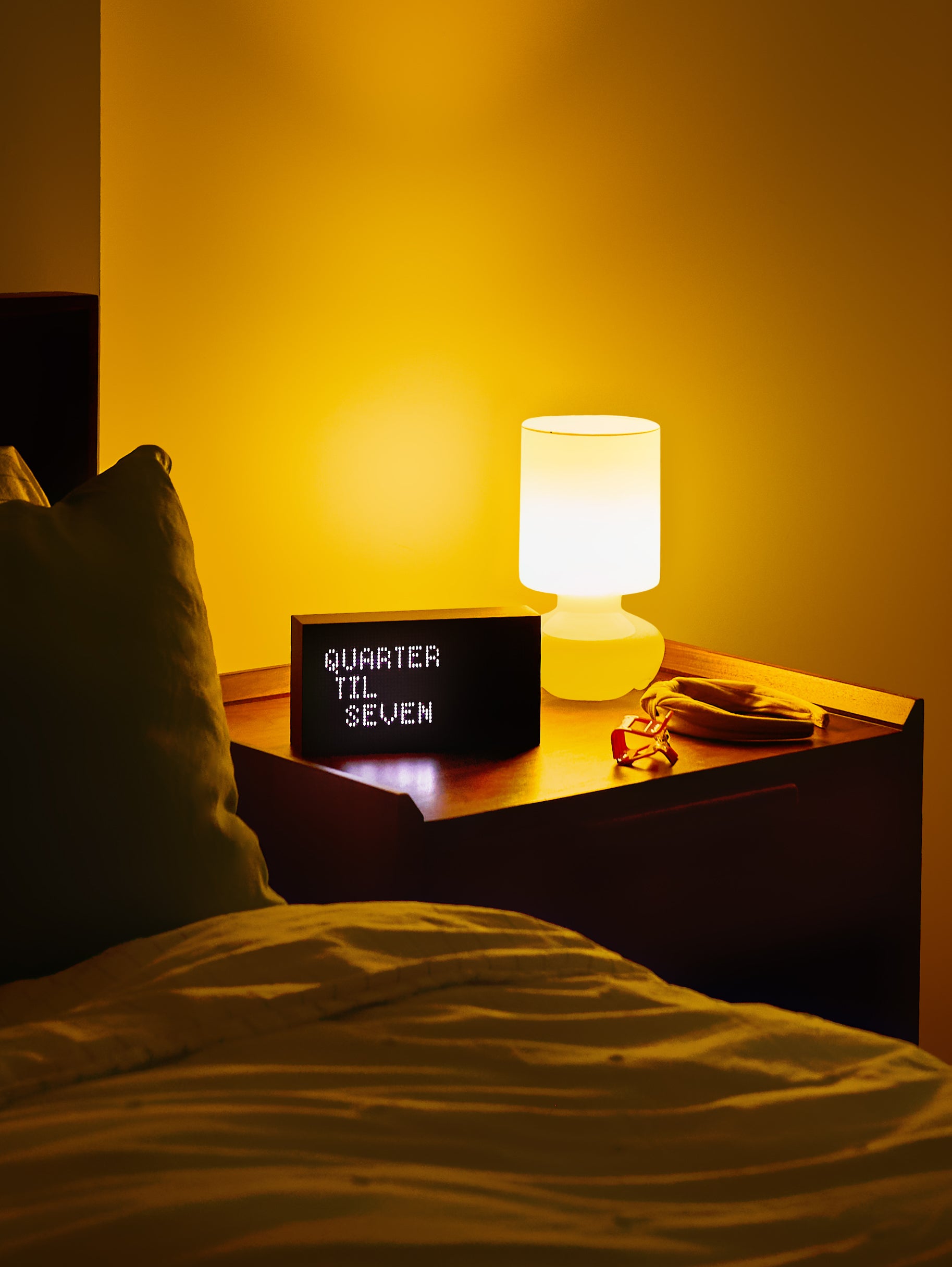 Adjust brightness as the sun rises and sets with auto-dim.